I recently started looking at prerequisites to a vSphere 7 upgrade, by reviewing any associated upgrades that might be needed. VMware Site Recovery Manager was one product that needed to be upgraded prior to this. I decided I would fire up a quick nested setup in my HomeLab to run through the process before hand and share the process!
This nested lab consists of two ESXi 6.7 nested hosts, two vCenter 6.7 VCSA's and two SRM 8.3.1 appliances, with the VCSA's and SRM appliances having custom CA certificates installed.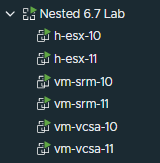 I made use of @lamw's VirtuallyGhetto WilliamLam.com Nested ESXi Appliances for the host deployment via the subscribed content library he offers. (Super easy to deploy nested hosts quickly if you haven't come across this before!)
Now on to the upgrade.
Firstly, make sure you have have sufficiently backed up your environment! Take a backup of your SRM configuration by using the Export/Import SRM Configuration Tool within SRM. Once you click export it will allow you to download the config backup to your local machine. Then take a snapshot the SRM appliances.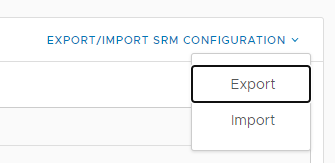 During the upgrade, SRM does not retain any advanced settings that you configured in the previous installation, so make sure you have made a note of any modified advanced settings such as timeouts etc before beginning.
Note: protection groups and recovery plans that are not in a valid state will not be preserved!
Other important checks before you begin -
Verify that there are no pending cleanup operations on recovery plans and that there are no configuration issues for the virtual machines that Site Recovery Manager protects.
All recovery plans are in the Ready state.
The protection status of all the protection groups is OK.
The protection status of all the individual virtual machines in the protection groups is OK.
The recovery status of all the protection groups is Ready.
Now, mount the SRM 8.4 ISO to the appliance you are going to upgrade first, and log into the SRM VAMI. Browse to the update section and edit the update source to be CD-ROM.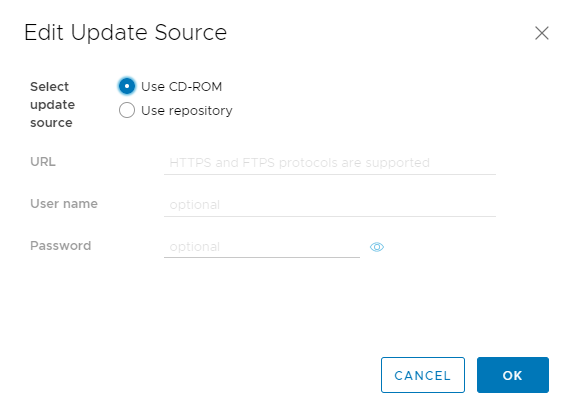 You will then get the option to install 8.4.

Providing you are in an appropriate window to take your SRM solution offline, have no recoveries in progress and have checked the list of important steps above, hit install and follow the prompts.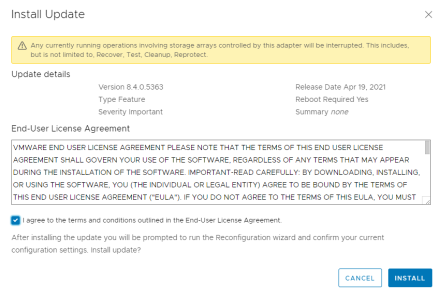 If you are upgrading other VMware products too make sure you visit this site to review the order for upgrading other components, such as vSphere Replication.
Once the upgrade is complete, log back into the SRM VAMI. You will see a prompt to reconfigure the connection to vCenter/PSC.

Hit the 'RECONFIGURE' button and follow the wizard to reconnect to your vCenter and PSC

Once complete, refresh your browser and log back in. You will now see your successfully upgraded SRM appliance running 8.4 and connected to your vCenter/PSC.
Sometimes clearing your browser cache is needed should you get oddities…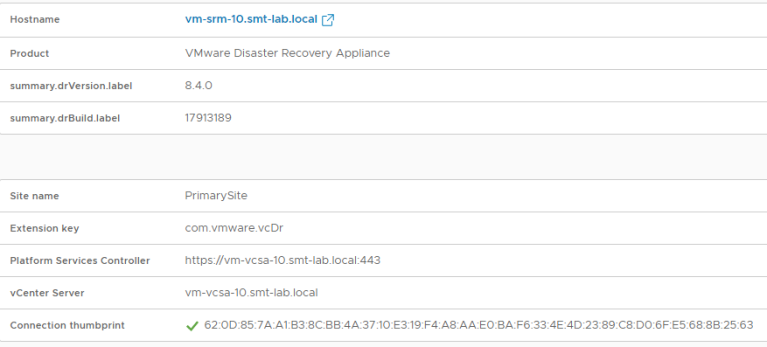 Now repeat the process for your partner SRM appliance.
Once complete, you should now have two upgrade SRM appliances!

From here you many need to update the Storage Replication Adapters (SRA) (if you are using array based replication). Check the VMware Compatibility Matrix - here.
You can find VMware's official documentation here.
Thanks for reading!